HOW TO APPLY
Easy to Apply
1

In the morning after cleansing, apply 3-5 drops of serum to your barely dry or lightly damp face and neck and gently massage or pat serum into the skin.

2

Allow Serum 60-90 seconds to absorb before adding additional products.

3

Follow serum with your favorite moisturizer and SPF.
Upgrade to Super Duo
Save 20% & Upgrade to Super Duo | $40.00 only!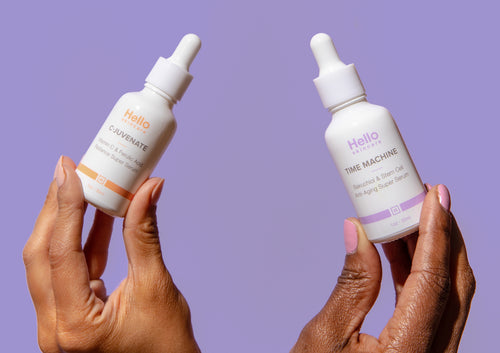 Know your products
Frequently Asked Questions
Um, how does instantly sound? That's right, C-Juvenate starts working from the very first application, which means you'll be able to notice its effects immediately. After that, it just keeps getting better with every use! And, somewhere between 8-12 weeks, you'll see full results. Of course, continued use will continue to produce results. But, you'll notice the most dramatic results within those first 8-12 weeks.
C-Juvenate Super Serum gives your skin a super dose of Vitamin C to eliminate dark spots and uneven skin tone while boosting your skin's radiance. You end up with a visibly healthy glow that
looks and feels downright amazing. But that's just the start. C-Juvenate also plumps, hydrates and nourishes your skin with Ferulic Acid and a unique combination of power-packed ingredients that are designed to let your skin's natural beauty shine.
When using once daily, with 3-5 drops per day, one bottle should last approximately 2-3 months.
Nope. Although the two serums were designed and formulated to be a Super Duo, you'll still see amazing results when using either product on its own.
Always! Hello never tests on animals, and we only source our ingredients from a select group of premium suppliers that uphold the same standard.
Yes! We don't just believe in our products, we stand behind them with a 60-day money-back guarantee on any first-time purchase. If for any reason you're not satisfied with your Hello product purchase, simply return the unused portion to us, and we'll refund your total purchase price minus initial shipping and handling charges.
Absolutely! Hello Skincare's entire product line is Vegan-friendly.
The term "clean beauty" gets thrown around a lot these days, but its meaning isn't always clear or consistent from brand to brand. So rather than just jumping on the bandwagon, we think it's more important to let you know exactly what we mean by "clean" here at Hello. Hello is absolutely meticulous about every aspect of our product formulations, and we make a conscious decision to eliminate ingredients that are proven harmful. All of our products are Vegan-friendly and cruelty-free as well as 100% free of all parabens, sulfates, phosphates, silicons, and synthetic dyes and fragrances. Hello is clean you can count on.
The answer is mostly yes! Hello offers free shipping on all U.S. and Canadian orders. However, we're not able to provide free shipping to other countries at this time. For these international orders, shipping is calculated during checkout.
OUR GUARANTEE
Love It or Your Money back
Hello Skincare's top priority is to bring you premium quality, highly effective skincare essentials that you love and trust. When it comes to choosing and sourcing ingredients, we refuse to take shortcuts or make compromises. We stand behind every one of our formulations with a 60-day money back guarantee. If you don't love it, we'll buy it back at full price.
Hello Skincare develops, manufactures, and tests all products in the United States.