Lashes 101
About Your Lashes
Aside from being your favorite fluttery accessories, each eyelash is actually a sensory hair that reflexively shuts the eyelid whenever it is touched by dirt, dust, or anything else that could get in the eye. The upper lid typically has about 100 to 150 lashes, while the bottom has between 70 and 100 lashes. Most eyelashes grow to be about 10mm long (just over 3/8 inch).
The eyelash growth cycle has three phases.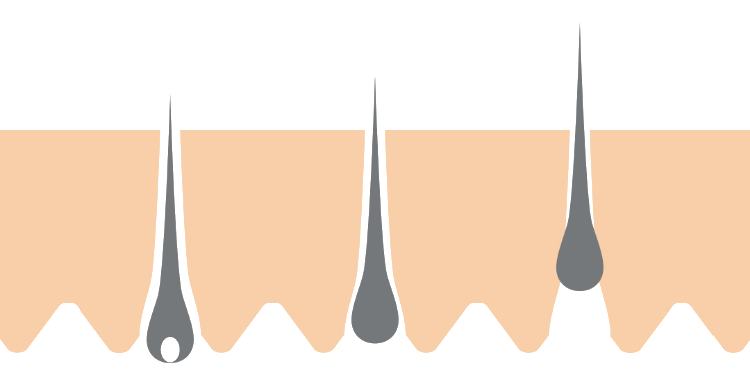 Anagen (Growth) Phase
This is the phase when lashes are actively growing, and it lasts between 30 and 45 days. Only about 40 percent of the upper lashes and 15 percent of the lower lashes are in the anagen phase at any one time. Each lash will grow to a specific length and then stop.
Catagen (Transition) Phase
During this phase, the lash stops growing, and the hair follicle shrinks. If an eyelash falls out or is plucked out during this phase, it won't grow back right away because the follicle needs to complete the catagen phase before it can move on to the next one. This phase lasts between 15 and 20 days.
Telogen (Resting) Phase
This phase can last more than 100 days before the eyelash falls out and a new one begins to grow. Because each individual lash is in its own phase of the growth cycle, it's normal for a few lashes to fall out most days. It typically takes between four and eight weeks to fully replace an eyelash.
HOW TO APPLY
Easy to Apply
1

Cleanse and dry your face before applying.

2

Apply along the skin of the upper lash line.

3

Allow 90 seconds for product to dry.
Know your products
Frequently Asked Questions
Lash Therapy starts working form the very first application, typically you can see the effects after 3-4 weeks with full results around 90 days.
Lash Therapy's proprietary formula is specifically developed to provide your lashes with maximum nourishment and moisture. It also delivers all the necessary vitamins, peptides, and amino acids to your growing lashes so they can be the longest, fullest, most resilient version of themselves.
Absolutely, Hello never tests on animals and we meticulously source our ingredients from premium suppliers that uphold the same standard.
Of course, Hello offers a 60-day money back guarantee on all new product purchases. If for any reason you're not satisfied with your purchase, send us back the unused portion and we will refund your total purchase price minus initial shipping and handling charges.
Definitely. Free domestic standard shipping is always included. We don't like to pay extra for shipping and we don't think you should have to either.
Orders are shipped within 1-2 business days. After your order has been processed you will receive an email confirmation with tracking details.
Lash Therapy is a beauty treatment and discontinuing use will return your lashes to their original appearance.
Lash Therapy is formulated with the highest quality ingredients by industry leading experts to create perfect balance while achieving maximum efficacy. When used correctly, Lash Therapy shouldn't cause any irritation. Some users with sensitive skin may experience slight irritation if they apply too much product, do not follow directions, or use product too frequently. If irritation occurs discontinue use.
Lash Therapy is available in two sizes and when used correctly (one application daily): 2ml = 3 Month Supply 4ml = 6 Month Supply
OUR GUARANTEE
Love It or Your Money back
Hello Skincare's top priority is to bring you premium quality, highly effective skincare essentials that you love and trust. When it comes to choosing and sourcing ingredients, we refuse to take shortcuts or make compromises. We stand behind every one of our formulations with a 60-day money back guarantee. If you don't love it, we'll buy it back at full price.
Hello Skincare develops, manufactures, and tests all products in the United States.